Insights

The cloud in 2021
We explore how to maximise its value to your organisation.
Get A Free Audit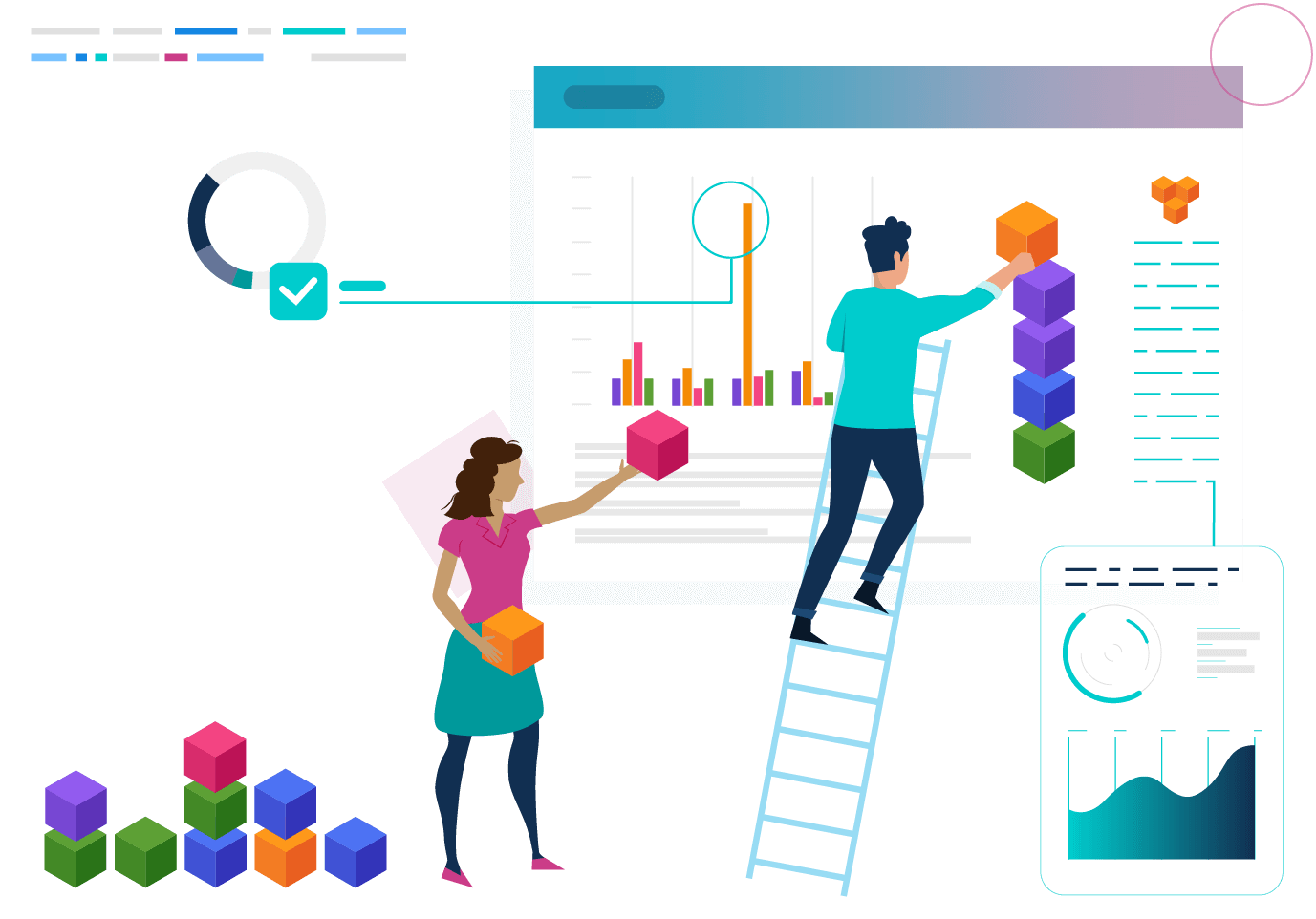 Cloud adoption has gone from niche to mainstream
Maximise its value to your organisation in 2021.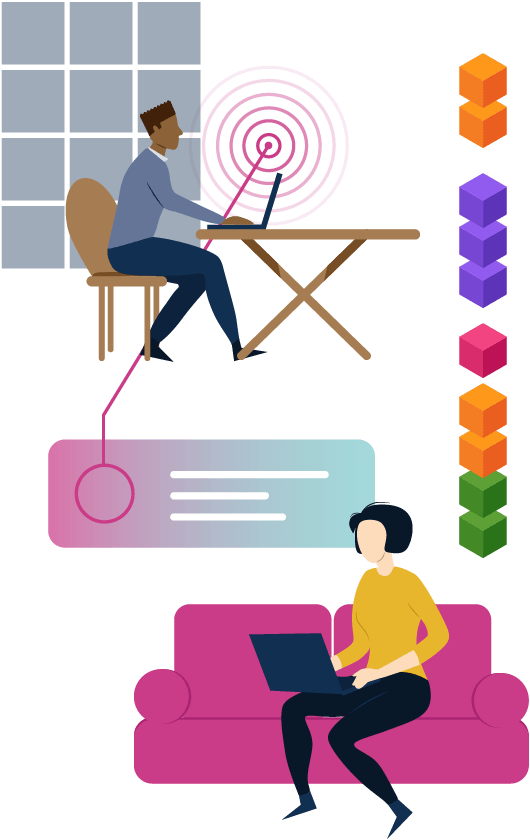 Cloud adoption in the year we'd all rather forget
What happened in 2020?
Covid-19 created an unprecedented shift in how we live and work. In the middle of March 2020, businesses had to adapt to almost-overnight changes in human behaviour as the UK locked down in the face of the global pandemic.
Online shopping and click-and-collect surged by 129% across the UK and Europe in the weeks that followed [1]. Many businesses rapidly expanded their use of the cloud in order to deal with the unparalleled demand and to support the rollout of remote working.
More than half of those we surveyed [2] said Covid-19 had increased their rate of adoption of the cloud in 2020. Perhaps unsurprisingly, they also ranked Covid-19 as the most frustrating factor to cloud adoption last year.
In more normal times, rapid cloud adoption should be coupled with an effective cloud strategy in order to maintain momentum and avoid unnecessary costs over the long term.
References

https://internetretailing.net/covid-19/covid-19/online-shopping-surges-by-129-across-uk-and-europe-and-ushers-in-new-customer-expectations-of-etail-21286
January 2021 survey results: 105 out of 200 people (52.5%) said Covid-19 had increased their rate of cloud adoption
It forces companies to take a step back and think about "What do I need to do differently?" … All of a sudden they decided, "Why are we running our own infrastructure? It's much harder to run. It's not as cost effective. We consume a lot of resources. It's not as quick. We don't have main capabilities."

Andy Jassy, AWS Chief Executive, on cloud adoption during a global pandemic
https://siliconangle.com/2020/12/15/aws-chief-andy-jassy-managing-covid-beyond/
Define a cloud strategy
Driven by your overall business strategy.
First and foremost, the objectives of your business should drive your cloud strategy. For instance, the need to improve service capacity and performance, or the ability to support a permanently-remote workforce.
Your cloud strategy should provide a coherent view of where your organisation is now, where it needs to be in 2-5 years, and how the cloud will help support and achieve that transformation. It should outline the expected benefits - the return on investment - which may be in terms of cost savings, productivity, revenue or other factors.
The types of approach that your organisation takes to using the cloud, such as "cloud first", "hybrid cloud" and "multi-cloud", should be defined by principles within your cloud strategy. These principles will be shaped by where your organisation is in its stage of development. New startups will often adopt a cloud first principle.
Organisations with a cloud strategy have a more effective approach to cloud adoption and cost optimisation. Yet many IT leaders still underestimate their value, with almost one in four people surveyed saying their organisation had no cloud strategy, or at least if it did, they were unsure of what it was [1].
References

January 2021 survey results: 31 and 18 out of 200 people (24.5%) said "no" or "not sure", respectively, when asked if their organisation had a well-defined cloud strategy.
You can undeniably create great things without a cloud strategy but those things may waste investment and may not add the crucial value that your business needs to succeed.

Dan Cooper,
CEO and Principal Consultant, Allies Computing
The top 3 obstacles to cloud adoption in 2021 [1]
And how to overcome them.
1. Security concerns
The most frustrating part is to get the team to be vigilant in respect to security when using the cloud
Bake in security from the start by using the principle of least privilege, which is the practice of limiting user, application, and service permissions at a granular level to only those necessary to perform a function or task.
2. Not enough people with the right skills
Not having enough individuals with the right skills; finding the right talent is difficult
Continuously upskill your existing people and they'll not only provide more value to your organisation, they'll stick around for longer too. External consulting partners can also provide in-house training during the implementation of cloud adoption projects.
3. Time constraints
Having insufficient time...to meet the legal and regulatory requirements of the cloud adoption
Time costs money but it can also lead to cost savings and revenue generation. Create a business case that highlights the benefits, risks (including those of inaction) and costs in the context of your organisation's strategic goals, and your decision makers are more likely to lend their support.
References

January 2021 survey results: 110 out of 200 people (55%) said "security concerns" was an obstacle to cloud adoption experienced by their organisation. 77 out of 200 people (38.5%) said "not enough people with the right skills" and 67 out of 200 people (33.5%). Quotes taken from responses of survey participants.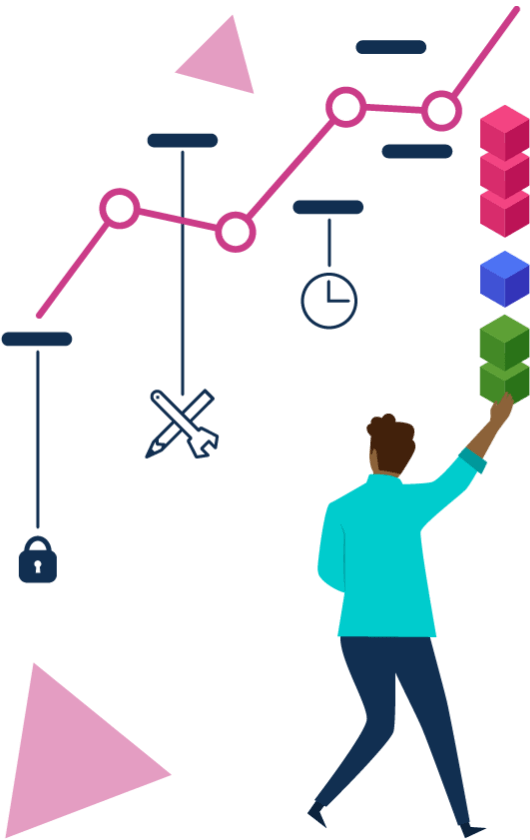 Transform and enhance your workloads
The smart way to migrate to the cloud.
The cloud is not new yet many organisations still rely on workloads that run in on-premise data centres. Indeed, more than half of those we surveyed said that 50% or fewer of their workloads run in the cloud [1]. The reasons for this are many and varied, and include factors such as risk, complexity, legacy, security and compliance.
When it comes to migrating workloads, it can be tempting to focus on the low hanging fruit - the pipelines and processes that can be migrated quickly and easily. In practice, you may be able to uncover much more value - in terms of resilience, performance and cost savings - by prioritising the complex and harder-to-migrate workloads.
There are different approaches to migration too. The most straight forward is the re-host approach, which involves lifting and shifting existing infrastructure into the cloud. It's often quick but the downside is your cloud environment inherits all the issues that your on-premise environment had.
The smarter way to migrate is to refactor and rearchitect. Transforming your workloads in this way can help you leverage cloud-native features for added resilience and cost effectiveness. Reassuringly, over 80% of our survey participants said their organisations mostly used this approach when migrating workloads [2].
References

January 2021 survey results: 109 out of 200 people (54.5%) said up to 50% of their organisation's workloads were on the cloud.
January 2021 survey results: 161 out of 200 people (80.5%) said they mostly transform and enhance each workload during migration.
Arguably, the easiest way to move to the cloud is to forklift all of the systems, unchanged, out of the data center and drop them in AWS. But in doing so, you end up moving all the problems and limitations of the data center along with it. Instead, we chose the cloud-native approach, rebuilding virtually all of our technology and fundamentally changing the way we operate the company.

Yury Izrailevsky, VP, Cloud Computing and Platform Engineering, Netflix (2011-2018)
https://about.netflix.com/en/news/completing-the-netflix-cloud-migration
Leverage the cloud
Go beyond storage and compute.
When you think of the cloud, do you immediately think about storage, compute and database services? No surprise, perhaps, given that these were some of the first services launched by Amazon Web Services in the early 2000s.
In 2021, cloud providers offer much more than just these core services. In fact, almost a third of those we surveyed said they were using the cloud for machine learning and AI, in addition to other services [1].
All three of Gartner's cloud leaders - Amazon Web Services, Microsoft Azure and Google Cloud - provide a broad range of machine learning and AI services. These services provide access to low-level model training for ML engineers, as well as access to higher-level services (such as image recognition) that don't require any machine learning experience.
References

January 2021 survey results: 64 out of 200 people (32%) said they use machine learning and AI in the cloud.
Most applications over time will have some form of machine learning AI infused in them. And today, if you look at AI usage, it's still relatively early days. But virtually every enterprise and startup is interested in it.

Werner Vogels, VP and CTO, Amazon https://blog.worldsummit.ai/in-conversation-with-werner-vogels-cto-amazon
Deliver the promised value
Ensure cost visibility and optimisation.
The arrival of the cloud brought with it a "pay as you go" pricing model which, in theory, means you only pay for the resources that you need, from gigabytes of storage to milliseconds of CPU time. In reality, it can mean paying for what you forgot to turn off, or paying for over-sized resources that rarely reach decent utilisation.
The cloud can deliver incredible cost savings but it's easy to end up paying for what you don't need. Costs can spiral as your workloads grow and evolve over time, and unexpected spikes in cost can be difficult to pinpoint.
Many organisations struggle with cost visibility in the cloud. Over 15% of those we surveyed said they could not easily drill-down to see the cost of each workload [1]. Optimising costs is also often overlooked despite the potential for significant cost savings. Almost one in five of our survey participants said they did not seek to optimise their costs in the cloud [2].
Cost visibility and cost optimisation are tenets that the three cloud leaders actively encourage. They don't always make it easy though with feedback from our survey stating "the most frustrating part of cloud adoption process over the past year for me was the complexity of billing" and "billing.... information saturation but not in a meaningful way".
Invest time on cost visibility and cost optimisation. When provisioning resources, you should tag them using an effective taxonomy so you can report on utilisation and cost. You should also draw upon features such as auto-scaling, serverless compute and storage lifecycle policies to minimise your spend and maximise the value of the cloud to your organisation.
References

January 2021 survey results: 31 out of 200 people (15.5%) said "no" when asked if their organisation had good visibility of their cloud costs. 24 (12%) were "not sure".
January 2021 survey results: 36 out of 200 people (18%) said "no" when asked if their organisation routinely sought to optimise cloud costs. 19 (9.5%) were "not sure".
Operating in the cloud without detailed cost visibility is like paying a credit card bill without a statement. You have no way to find out why you spent more this month compared to last, or what you spent most money on.

Dan Cooper,
CEO and Principal Consultant, Allies Computing
Accelerate your journey to the cloud in 2021
Get to where you're going quicker with Allies.
Realise the benefits of Amazon Web Services by using our world-class team of AWS certified solution architects to expertly guide you from strategy to implementation.
AWS cost optimisation

We can optimise your costs and improve your visibility of where you're spending money on AWS.

AWS cloud migration

We have a team of talented people ready to help you re-imagine your architecture for the 2020s.

AWS design and build

If your project needs a few days, weeks or even months of expert guidance, we can help.

AWS training

Our AWS consultants can provide all the help and guidance that you need to become completely self-sufficient when it comes to finance and IT support.
Get A Free Audit
Let's start a conversation
For more information on our AWS consultancy service, please email us or complete our contact form.
Contact form
Latest news,
press releases & announcements