News Article

Royal Mail solves James Addison's 'Puzzles for Postmen'

Graphic designer James Addison chose to challenge Royal Mail to decpiher some very creative puzzles in order to successfully deliver his letters.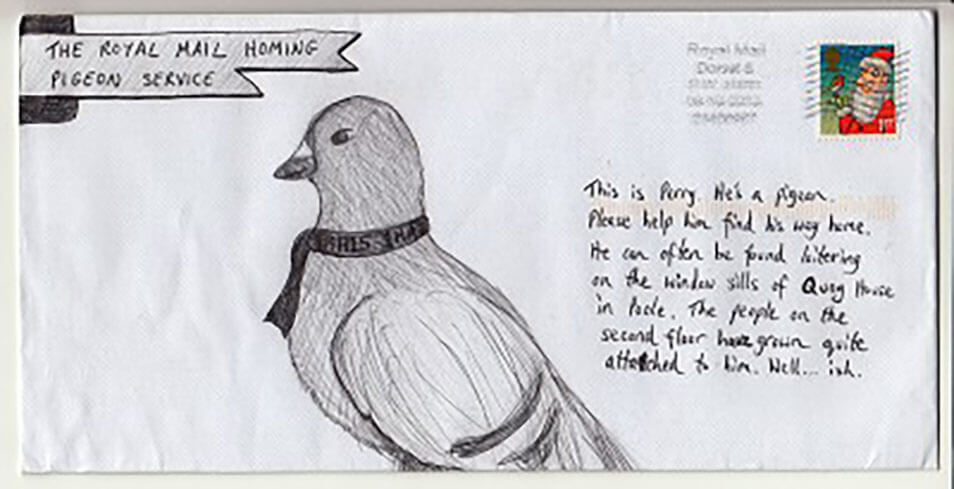 For many of us the process of sending a traditional letter remains a challenge. Whilst we can remember our own postcode millions of us are guilty of sending letters every year without a complete address on the envelope.
Usually the sender is unaware that he or she has committed a postal 'faux pas', which subsequently tests the patience and ingenuity of the postal staff entrusted to successfully deliver the letter in question.
James Addison, a graphic designer based in Poole, is no different. Except his 'Puzzles for Postmen' project has intentionally tested the reliability and efficiency of the Royal Mail's delivery service for the past six years.
Originally from Buckinghamshire, Addison who admits he is 'fascinated' with the Royal Mail, and how a physical letter can be delivered anywhere in the UK for less than the price of a chocolate bar, was inspired to send cryptic envelopes after encountering an 'incredibly efficient' postman called Frank.
"Letters would be delivered exactly at the same time every day, he knew the area inside out and he was rarely late. It was at this point that I thought I could set him a challenge, an opportunity to test both his and the sorting office's detective skills."
"I started first with an envelope sent to my home address with a hand-drawn map and a drop pin as to where it should be delivered. To my disbelief the letter was delivered back the very next day and so started a project spanning over 5-6 years where I would occasionally send the odd puzzle to see if it would make its way home."
Being aware of his hobby, Addison's parents bought him a book titled 'Envelopes' by illustrator Harriet Russell, who had a similar project in 1999, where she sent 130 cryptic envelopes to her home in Glasgow. Russell's work was a 'great inspiration' to Addison and fuelled the graphic designer's growing passion for all things postal.
From maps and symbols to word-searches and drawings of the letter's destination, Addison has created a variety of puzzles to challenge sorting office brains. Nonetheless, Addison estimates that only two of the approximate 30 cryptic letters sent out failed to reach their intended destination.
Moreover, a number of the envelopes have arrived at their intended destination with the workings of postal staff written on them. Clearly, the 'Puzzles for Postmen' project demonstrates the tenacity of the British postal system to deliver mail, and its willingness to embrace the brainteasers wholeheartedly.
A Royal Mail spokesperson said, "We're pleased to hear our postmen and women have been able to decipher and deliver James Addison's obscurely addressed mail."
"It demonstrates how our people, who are based at the heart of communities across the UK, use their local knowledge on a daily basis to ensure mail is delivered quickly and efficiently to 29 million addresses nationwide." "We would of course encourage our customers to always use a full address and postcode when addressing their mail to ensure it arrives at its intended destination."
When asked about the future of traditional mail types Addison said "I do think that there is a time and a place for physical mail and working as a graphic designer I know this all too well. I think it purely depends on the message you wish to communicate."
"A well-crafted piece of mail can speak volumes and enlighten a whole host of senses that an email never could, from the weight in your hand to the way it feels and smells. Social media is great for quick, little messages but if you have something important to say then why not send a letter?"
Ultimately, the 'Puzzles for Postmen' project demonstrates the underlying human spirit within the British postal system. Moreover the challenges posed by cryptic post emphasise the personalised nature of physical mail, which differs hugely from its modern equivalent. As for Addison's riddles, it would seem Britain's posties are far from puzzled.
For more information about James Addison and his 'Puzzles for Postmen' project, please visit his website »